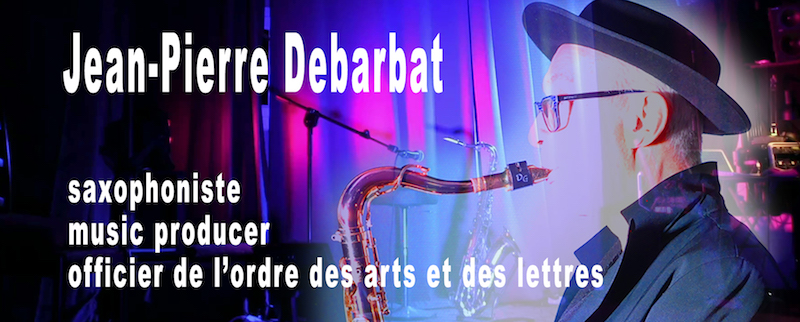 Saxophoniste, compositeur et producteur, musicien emblématique et avant gardiste de la scene française, Jean-Pierre Debarbat est un pionnier du jazz fusion et du jazz électro.
Sa passion pour cette musique l'entraine dans une ascension fulgurante le propulsant dans les années 80 parmi les saxophonistes français les plus demandés.

En 1983, Il reçoit le Grand Prix du jazz Boris Vian, meilleur album de l'année.

Ce qui le rend remarquable, outre la maîtrise de son instrument, c'est son ouverture d'esprit sur toutes les formes d'art de la plastique à la musique.
Il réinvente à sa façon le jazz, la chanson, le monde de l'acoustique et de l'électro, la création graphique, le son et l'informatique musicale qu'il explore en précurseur.

Sur scène et en studio, il collabore avec de nombreux musiciens de jazz comme Miles Davis, John Lewis, Johnny Griffin, Claude Bolling, Michel Legrand, Richard Galliano,
Michel Pétrucciani, Martial Solal et de nombreux chanteurs populaires comme Henri Salvador et son épouse Fabienne Thibeault la chanteuse de Starmania, sa compagne et partenaire professionnelle pendant 25 ans.

Le grade d'Officier des Arts et des Lettres est rarement attribué aux musiciens de jazz français. En 2010, Frédéric Mitterrand, ministre de la Culture et de la Communication français, lui attribue cette prestigieuse distinction. .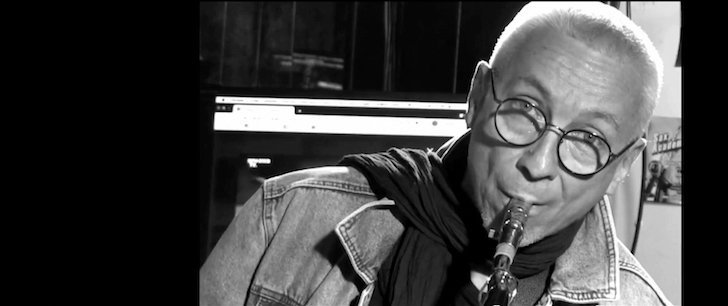 Saxophonist, composer and producer, emblematic jazz musician and avant-garde of the French scene, Jean-Pierre Debarbat is a pioneer of jazz fusion and electro jazz.
His passion for this music leads him to a meteoric rise propelling him into the 80s among the most requested French saxophonists.
In 1983, he received the Jazz Grand Prix Boris Vian, best album of the year.

What makes him remarkable, besides the mastery of his instrument, is his openness to all the art forms from plastic to music.
He reinvents in his own way the jazz, the song, the world of the acoustics and the electro, the graphic creation, sound and computer music that he explores as a forerunner.

On stage and in the studio, he collaborates with many jazz musicians like Miles Davis, John Lewis, Johnny Griffin, Claude Bolling, Michel Legrand, Richard Galliano, Michel Petrucciani, Martial Solal and many popular singers like Henri Salvador and Fabienne Thibeault, his wife during 25 years.

The rank of Officer of Arts and Letters is rarely attributed to French jazz musicians.
In 2010, Frédéric Mitterrand, French Minister of Culture and Communication, awards him this prestigious distinction.
JEAN-PIERRE DEBARBAT-FABIENNE THIBEAULT
CD "SUR MA VOIE"
"Fabienne Thibeault la chanteuse de Starmania, épouse, compagne et partenaire professionnelle pendant 25 ans de Jean-Pierre Debarbat"
Jean-Pierre Debarbat "SAX MAN LOVER"
FACEBOOK LIVE CONCERT CHRISTMAS JAZZ 31-12-2022

AULD LANG SYNE "ce n'est qu'un au revoir"
by Jean-Pierre Debarbat on saxophone
with the fireworks on the Champs-Elysées in Paris for the new year 2023
BFMTV
LA VILLE DE PARIS
ARTEVENTIA
Thank you to Mariane d'Ursin "Sax Machine" and Gerard Poncet
Jean-Pierre Debarbat play Yanagisawa Tenor-WO 20 Bronze saxophone
T6 M V16 Vandoren tenor saxophone mouthpiece
For Streaming Live, record vidéo and lights, Jean-Pierre Debarbat use :
Digital Performer , OBS Studio, Blackmagic Atem pro,
Mac Pro , Sweetlight , Canon Video Cameras, Adobe
Playback Play A Long & recording set by Jamey Aebersold Jazz
© 2022 by Jean-Pierre Debarbat PARIS

BENNY GOLDMAN-JEAN-PIERRE DEBARBAT "SING SING SING"
Interprété , arrangé et enregistré par Jean-Pierre Debarbat
DEBARBAT DOLPHIN ORCHESTRA
Grand Echiquier Henri Salvador France2 1986
André CECCARELLI batterie electro Dynacord
Tony BONFILS basse electrique
Robert PERSI clavier
Jen-Pierre DEBARBAT saxophone tenor, composition , programmations, samplers Akai et Kurzweil, Mac plus
Album "ONE MAN BAND" 116 xxxx Street



acord
Jean-Pierre Debarbat
mise à jour novembre 2023